Audio & Video Systems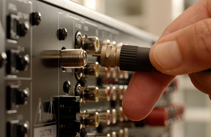 Fox Home Solutions will design an Audio and Video that will allow you to fill your home with your favorite music with the touch of your fingertips. Whole house audio and video is centralized system that sends music and audio into your entire home. The components strategically located through your home and can be controlled with a handheld remote.
Providing you with the best solutions for your home and video is our promise. Contact us today for a free consultation. All of our Audio & Video Systems are fully guaranteed.